Biography
DAVID BECKHAM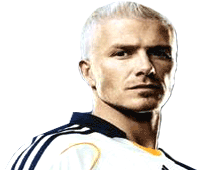 Born in Leytonstone, London is an English footballer who plays for Real Madrid and captains the English national team. He is especially noted for the quality of his crossing and ability to hit free-kicks and corners, particularly long-range free-kicks. He signed schoolboy forms for Manchester United in 1989, became a trainee in 1991 and signed a professional contract with them soon after making his first first-team appearance in 1992 .By 1995 , he established himself as a first-team player at United and won Premier League and FA Cup winners' medals with the club in 1996 . He was soon selected to play for England, but after winning another league medal in 1997, he was sent off in a World Cup match against Argentina and became a figure of public hatred among many English football supporters.

He continued to play well, though, and helped United win the league, FA Cup and UEFA Champions League the following year. His relationship with the club's manager Sir Alex Ferguson began to deteriorate, though, and although he won further league championships with United in 2000 and 2001, he left the club to join Real Madrid in 2003. While his performances for Real Madrid have attracted praise, he had not won anything significant there, as of September 2005.

Beckham's relationship with and marriage to the former Spice Girl Victoria (nee Adams) has contributed towards him becoming a major celebrity away from football, and his name was searched for on Google more than that of any other sporting personality in 2003 and 2004.The Beckhams have three sons, Brooklyn, born March 4, 1999, Romeo, born September 1, 2002, and Cruz, born February 20, 2005.

Manchester United

1995 to 1998 United's manager Alex Ferguson had enormous confidence in the club's young players and when three of his first-team players left the club at the end of the 1994-95 season, he made the controversial decision to let the youth team players replace them instead of buying players from other clubs. The criticism of Ferguson increased when United started the season with a 3-1 defeat at Aston Villa F.C. , [4] but many of the doubters were won over when the team won their next five matches. Beckham became a regular player in the team and helped them to win the Premiership and FA Cup double that season.

In August 1996, Beckham's became something of a household name when he scored a spectacular goal in a match against Wimbledon. With United 2-1 ahead, Beckham noticed that Wimbledon's goalkeeper Neil Sullivan was standing a long way out of his goal, and hit a shot from the halfway line that floated over the goalkeeper and into the net. Sky Sports ' commentator Martin Tyler's words "You'll see that over and over again" proved propic as the goal was voted Premier League 'Goal of the Decade' in 2003 . Beckham's name was frequently mentioned in the press, and he made his first appearance for the England national football team on 1 September 1996 in a world cup qualifying a match against Moldova. He became an automatic first-choice player at United that season, helped them to retain their league championship and was voted PFA Young Player of the Year by his peers. In 1998, Beckham started dating the Spice Girl Victoria Adams and was pictured wearing a sarong while they were on holiday together. Their relationship attracted a great deal of media interest. United started the season well, but their results deteriorated when several players became injured and they finished the season in second place.

World Cup 1998

Beckham had played in all of England's qualifying matches for the 1998 World Cup and travelled with the England squad to the finals in France, but the team's manager Glenn Hoddle publicly accused him of not concentrating on the tournament, and he didn't start in either of England's first two matches. He was picked for their third match against Colombia , which England needed to win to ensure their progress in the tournament, and played well, scoring one of his trademark free kicks in a 2-0 victory. In the second round of that competition, he received a red card in England's match against Argentina, for kicking out at Diego Simeone following a foul challenge by the Argentine. Simeone later admitted to trying to get Beckham sent off by over-reacting to the kick and then, along with other members of his team, waving imaginary red cards at the referee, urging him to send Beckham off .The match finished in a draw and England were eliminated in a penalty shootout. Many supporters and journalists blamed Beckham for England's elimination and he became the target of severe criticism and abuse, including the hanging of an effigy outside a London pub, and the Daily Mirror newspaper printing a dartboard with a picture of him in the middle.